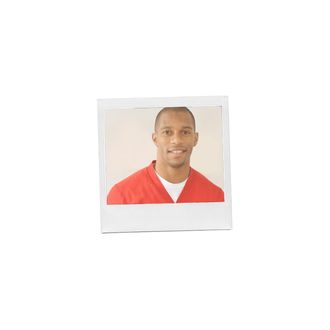 Photo: Slaven Vlasic/Getty Images
Name: Victor Cruz
Age: 25
Neighborhood: Lyndhurst, New Jersey
Occupation: Wide receiver, New York Giants. His memoir Out of the Blue is out next Tuesday, July 17.  
Who's your favorite New Yorker, living or dead, real or fictional?
Jay-Z. I've been a fan of his music, his philanthropy, and everything he's done. He represents New York in every sense of the word.
What's the best meal you've eaten in New York?
It would have to be the burger at the Spotted Pig. Every time I'm in the area I go in for the burger — if I can get in.
In one sentence, what do you actually do all day in your job?
Make myself and everyone around me better.
What was your first job in New York?
Playing for the New York Giants.
What's the last thing you saw on Broadway?
Lombardi. The actor that played [Lombardi] was spot-on. It was actually my first play, and it was definitely a good experience.
Do you give money to panhandlers?
Yes, every now and then, when I see one that's deserving.
What's your drink?
100 percent cranberry juice.
How often do you prepare your own meals?
Once a week or so. Does fixing a bowl of cereal count? I like Cinnamon Toast Crunch.
What's your favorite medication?
Ibuprofen. I usually take one before a game to relieve all my ailments that I have. It's a little superstition and a little preventative.
What's hanging above your sofa?
A portrait of a zebra, believe it or not. My girlfriend got it and it just travels with us when we move. I don't really pay too much attention to it. It goes with the décor, I guess. There's not much other art in the house, other than the trophies and plaques I've acquired this past year [laughs].
How much is too much to spend on a haircut?
No more than 50 bucks. I've had the same barber since I was about 14 years old.
When's bedtime?
On average I'd say about midnight or 1 a.m.
Which do you prefer, the old Times Square or the new Times Square?
I would have to say the new one, because that's the one I grew up in. I used to go to the Footaction all the time, check out all the latest sneakers.
What do you think of Donald Trump?
I think Celebrity Apprentice when I think Donald Trump and I think millionaire when I think Donald Trump. And both of those things are good associations.
What do you hate most about living in New York?
The traffic.
Who is your mortal enemy?
Anyone that's on the opposite side of what I'm trying to be doing. Anyone trying to keep me down.
When's the last time you drove a car?
Two days ago, to a 7-Eleven. I was running out of doughnuts and I had a craving. I always have to have a six pack or twelve pack of Entenmann's doughnuts in my house, no other brand. If Entenmann's is reading this, I like the glazed ones.
How has the Wall Street crash affected you?
Not personally, but seeing everyone around me be affected has definitely changed the way I feel about investing. 
Times, Post, or Daily News?
Times, on my iPad.
Where do you go to be alone?
My mother's house, when she's not there.
What makes someone a New Yorker?
A person that doesn't take no for an answer, who goes out and gets what they want, what they deserve, and what they feel they deserve. And they live by their own rules.