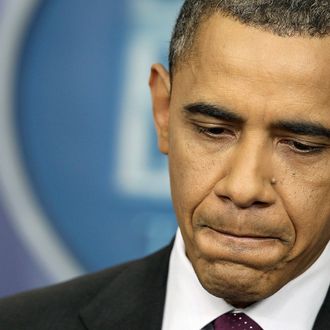 Fine, he'll think about it.
Photo: Mark Wilson/2012 Getty Images
With gun control advocates continuing to criticize both Democrats and Republicans for refusing to address the issue in the wake of the Aurora theater shooting, on Tuesday the Obama administration altered its stance ever so slightly. Previously, White House press secretary Jay Carney said the president is only interested in enforcing existing laws, but aboard Air Force One on Tuesday he upgraded Obama's response to a "maybe." "It's certainly possible the president could address … these issues in the future," said Carney, "but I don't have any scheduling updates for you." Meanwhile, four Democrats in Congress proposed a ban on high-capacity ammunition, which was used in the Colorado shooting, but their fellow lawmakers made it clear that the legislation has no chance of passing.
Senator Bob Menendez and Representatives Diana DeGette and Carolyn McCarthy appeared at an afternoon press conference with Senator Frank Lautenberg to voice their support for his bill to ban 100-round magazines. Similar legislation was introduced after last year's shooting in Tucson, Arizona, but it went nowhere. According to ABC News, the members of Congress refused to entertain questions from reporters about why they were taking up the futile effort.
At their weekly press conference, Senate leaders from both parties said now isn't the time to introduce new gun legislation. Minority Leader Mitch McConnell argued that stricter laws wouldn't have prevented the tragedy in Aurora, since "somebody who is that unbalanced will find some way to do harm." Majority Leader Harry Reid told reporters, "I'm not going to be here with each of you debating gun control … I'm not going to be debating magazine size with you today."
When asked about what's stalling Congress, Senator Chuck Schumer, who's pushed to reinstate the lapsed assault weapons ban, blamed the NRA and House Republicans for blocking gun legislation (though the majority of Democrats aren't putting up a fight). He added that "the way to overcome it is for citizens, the silent majority, who believe in the right to bear arms," to push lawmakers to pass "reasonable limitations." Citizens have already elected representatives to tackle these very issues, but clearly most don't intend to act without provocation.