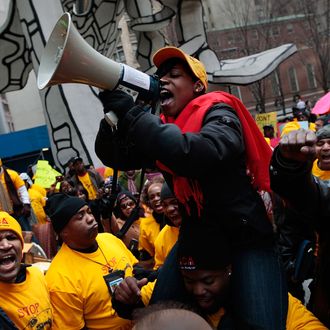 A sturdy fence could have prevented this 2009 protest in the plaza.
Photo: Chris Hondros/2009 Getty Images
While Chase Manhattan Plaza, which is located a block from the New York Stock Exchange, has been open to the public for decades, owner JPMorgan Chase suddenly fenced off the plaza in September, right around the time that Occupy Wall Street protesters announced plans to hold a rally there. Over the past ten months, the bank has obtained permits to build even sturdier fences, supposedly as part of a renovation. Now critics are demanding to know why the plaza is still closed, and one person has even filed a lawsuit. JPMorgan Chase would love to tell us what's going on, but unfortunately it can't. The bank claims that if the public knew its reasons for building a fence and seemingly doing no other construction in the plaza, the space might become a terrorist target.