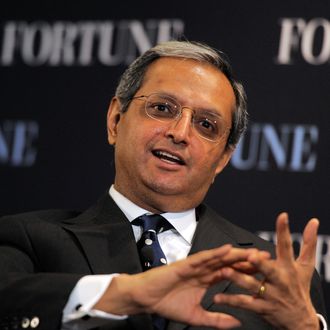 Citigroup CEO Vikram Pandit. (Jemal Countess/Getty Images for TIME Inc.)
Photo: Jemal Countess/2011 Getty Images
Britain's banking sector is still roiling over reports that Barclays manipulated the Libor rate (and that HSBC moved drug money.) Now, one of the United States' largest banks faces corruption charges of its own. Three different reports — a 2010 academic paper, this 2008 Wall Stret Journal analysis, and a recent breakdown by banking analysts at Nomura — all claim that Citigroup understated its Libor borrowing costs between 2007 and 2008 by up to three times as much as Barclays did.
In fact, Citigroup was far and away the most egregious interest-rate rigger among the sixteen big banks who set the Libor. Already, the bank has had to write off $50 million in Libor-related charges, and Citigroup CEO Vikram Pandit hinted earlier this week that any settlement would ultimately dwarf the $450 million Barclays paid out. 
Update: A Citigroup spokesperson supplied the following statement, which the bank released on Monday along with its latest earnings report, cautioning that "one should not infer from the situation of one Libor-submitting bank (read Barclays) that every bank is in the same or a similar situation."

We understand that Barclays' LIBOR settlement has raised questions about the situation of other LIBOR-submitting banks.

As you know, Citi is a member of a number of interbank rate-setting panels. Like many other panel member banks, and as we have previously disclosed, Citi has received requests for information from government agencies and authorities in several jurisdictions.  These requests are confidential and, of course, Citi is fully cooperating with the governmental authorities regarding these matters.

However, although we cannot discuss any details, one should not infer from the situation of one LIBOR-submitting bank that every bank is in the same or a similar situation, or draw conclusions about the regulatory consequences for any particular bank.

Because the investigations are ongoing and confidential, this is all we can say about the matter at this point.