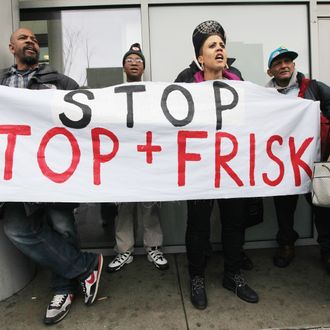 Tell it to the judge.
Photo: Mario Tama/2012 Getty Images
In recent months the battle over the NYPD's stop-and-frisk policy has been a slow push and pull. City Council members call for more police oversight; Police Commissioner Ray Kelly convenes a possibly useless community advisory panel; several thousand people march down Fifth Avenue in protest; NYPD officers get classes on the proper frisking etiquette. Unless Mayor Bloomberg has a drastic change of heart, it seems the issue is likely to be settled by judges, who have shown signs that they consider the disproportionate frisking of young minority men a violation of New Yorkers' rights.
In the past few months, the courts have ruled against the city in three cases. In May, Federal District Court in Manhattan ruled that the case of four plaintiffs who say they were unlawfully stopped could be bumped up to a class-action suit. Notably, Judge Shira Scheindlin remarked in her decision that the NYPD showed "a deeply troubling apathy towards New Yorkers' most fundamental constitutional rights." Then in June a Manhattan appeals court overturned two teenagers' weapons convictions, ruling that officers didn't have reasonable suspicion to stop the boys. Again, the majority attacked the policy, saying, "The gradual erosion of this basic liberty can only tatter the constitutional fabric upon which this nation was built."

Mayor Bloomberg and Commissioner Kelly publicly fumed that the court is preventing the NYPD from doing its job, and the city is appealing all of the rulings. Unsurprisingly, when speaking with the New York Times, Michael Cardozo, the city's top lawyer, contradicted the idea that the rulings signified hostility toward stop-and-frisk from the courts. He pointed out that the appeals courts were split three to two in both decisions, and downplayed the importance of allowing the other case to become a class action suit.

Yet, legal analysts tell the Times that the city is taking a risky path. The appeals create an opportunity for the courts to issue a ruling that could drastically alter the way the searches are conducted. When a case involving Philadelphia's stop-and-frisk policy settled last year, the court imposed more police monitoring. A lawyer for the Center for Constitutional Rights said that similarly, in the New York class-action case it's pushing for independent oversight of the NYPD.
Without a court ruling, it seems unlikely that the city will drastically change its stop-and-frisk strategy, or allow more police oversight. The NYPD has already explained that it's perfectly capable of policing itself, despite the reports that its system for reporting corruption is totally dysfunctional. Plus, as Mayor Bloomberg vowed following the decisions on the teens' appeals, "We're not going to lighten up. We're going to do what it takes to keep you safe."