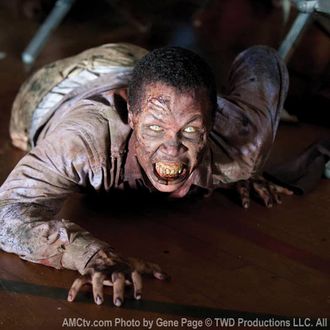 This is a zombie.
Photo: Gene Page/AMC
A bus driver who had been "heavily drinking" during lunch ran into a road in Wenzhou, China, and started pounding on a woman's car. When she fled the vehicle, the driver jumped on her and began chewing on her face. The attacker, who's name is Dong according to Daily Mail sources, held the woman down and mauled her as passerby attempted to pull him off. The attacker left the woman covered in blood with damage to her nose and lips.
Police hauled away Dong, and the woman was taken to the hospital where she will undergo surgery, but fortunately much less than the Miami zombie cannibal victim will require. The attacker in that case was shot and killed, and police later found that the only substance in his body was marijuana, not bath salts as many had suspected. Apparently now alcohol alone will spring zombies into action. In a related story, we must retire the Zombie Nation tag to recognize the international scope of the horror.