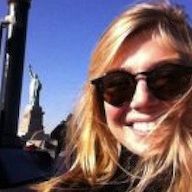 What at first appeared as though it might have been a brutal murder of a woman in a Lower East Side apartment building stairwell may not involve foul play after all. Around 11 a.m. Monday morning, a 19-year-old resident at 191 Orchard Street discovered the body of 29-year-old Carlisle Brigham face down in the first-floor stairwell with a bone-deep wound to her chin and neck. I just thought she just tripped and fell. Her bags were just scattered on one corner. She was facedown, like she banged up her head," Mizanur Rahman, who attempted to perform CPR on her, told CBS New York. "When I went closer I saw blood and that's when I knew something serious really happened."
She was later pronounced dead at Beth Israel Medical Center.
The Wall Street Journal reported earlier that Brigham was living at the building separate from her estranged husband, 34-year-old Anthony Champalimaud, to whom she was married last August. According to NBC New York, that man is Brigham's ex-husband, currently in England, who their sources do not believe had anything to do with her death.

Police Department spokesman Paul Brown said investigators believe it's possible that Brigham "struck her chin in a fall down a flight of marble stairs." Brigham's friends told law enforcement officials that she was drinking heavily at a wedding Sunday night and "had to be carried" several times. According to Brigham's roommate, she was still drinking when he left for work in the morning. He spoke with her from work and said she sounded distraught.

Brigham, who worked at  the Museum of Natural History, was the daughter of former New York City budget director James Brigham Jr.