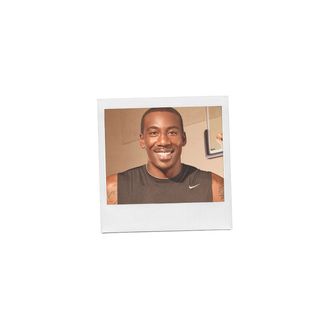 Name: Amar'e Stoudemire
Age: 29
Neighborhood:  Meatpacking 
Occupation: New York Knicks Captain, and Children's book author. He'll be signing copies of his new children's book series STAT at the Citigroup Barnes & Noble on August 20 at noon.  
Who's your favorite New Yorker, living or dead, real or fictional?   
Tupac Shakur, because his music was so relevant to my situation growing up.
What's the best meal you've eaten in New York?
Anything my chef, Max Hardy, has on the menu. I hired him once when I was in Miami, getting ready to entertain some friends, and needed a chef as soon as possible. A buddy of mine called Chef Max and Chef Max laid out a full spread of awesome food. This was during the time I was going from Phoenix to New York and I said, "You know what? I need a chef full time. You're my guy." And I brought him along.
In one sentence, what do you actually do all day in your job?
I spend my day focused on doing what I can to bring an NBA Championship to the New York Knicks.
What was your first job in New York?
I shoveled snow for neighbors from ages 9 to 11. I used to pick up my younger brother Marwan early in the morning, and we'd get out shovels and shovel our neighbors' driveways for five bucks per driveway. That was my first job, my little hustle.
What's the last thing you saw on Broadway?
Rock of Ages. I am one of the producers of the show.
Do you give money to panhandlers?
Sometimes.
What's your drink?
I don't drink alcohol during training, so right now it's Zico coconut water. It helps with muscle recovery after workouts and games.
How often do you prepare your own meals?
Not very often. I make snacks and turkey sandwiches for my kids all of the time. They're pretty simple, though: My turkey sandwiches consist of romaine lettuce, mayonnaise, and cheese, and sometimes I add a little pepper to it to give it a lil' flava.
What's your favorite medication?
Hugs from my kids, rest, and prayer.
What's hanging above your sofa?
A family portrait that David Zimmerman, a photographer out of Phoenix, Arizona, took it for me back in … 2009, I believe. I just wanted some family photos for around the house and he took some phenomenal shots.
How much is too much to spend on a haircut?
No more than $100 including tip and any travel expenses to get to me. I have a barber's chair and a mirror, everything they need to perform a great haircut in my place. When I'm on the road I have the barber in that particular city travel over to my hotel room and I get a haircut right there inside the room.
When's bedtime?
10 p.m. on the nights before a game. Midnight during the off-season so that I can get up early for workouts.
Which do you prefer, the old Times Square or the new Times Square?
New Times Square. You got everything you need: the people, the lights, restaurants. The whole atmosphere gives you so much energy that it's an incredible sight to see when you're there. My children love it too. Sometimes it's overwhelming if I was to go down with them, because there's so many fans, but they love it.
What do you think of Donald Trump?
I first met Donald Trump when I first went out to New York, when he threw a "Welcome to New York" dinner for me. We've been friends ever since.
What do you hate most about living in New York?
Traffic. I drive to the Knicks Practice Facility daily and it can be a quick or a slow trip depending on the traffic.
Who is your mortal enemy?
Anyone playing against the Knicks.
When's the last time you drove a car?
AS: This morning. I drove to my workout.
DI: What do you drive?
AS: Are you kidding me? I have about nine vehicles.
How has the Wall Street crash affected you?
It did affect me but not as much as it did other people.
Times, Post, or Daily News?
I'm not a big newspaper reader, to be honest with you. I love books, so I read a majority of books when I travel, and I may scan through a couple of magazines here and there.
Where do you go to be alone?
A local book store a couple blocks from my place. It's an antique bookstore, so it's one of those places where you can find books that aren't published anymore, that you can't find in regular bookstores.
What makes someone a New Yorker?
Fashion. People who are New Yorkers have a style and sense of confidence that I like to be around.