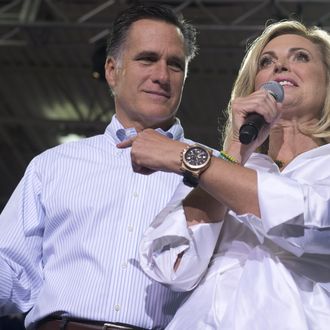 While the organizers of the Republicans' upcoming Tampa get-together have been careful to keep the official schedule under wraps, CNN has learned that Ann Romney will likely kick off the opening night on August 27th. As CNN political director Mark Preston explains:
>
Having Ann Romney play a prominent role on the convention's first night makes sense, as she is widely considered to be one of her husband's most effective surrogates. It would also create a bookend effect – Ann Romney speaking on the first night, with her husband formally accepting the Republican presidential nomination on the final evening of the convention.
If true, we can make a pretty good educated guess of what the four-night lineup will look like.
Monday, August 27th: Ann Romney, waxing nostalgic about the good times had with Mitt and their five telegenic sons, showing that robot-ness doesn't run in the family, and patently avoiding any mention of Seamus and that unfortunate road trip.
Tuesday, August 28th: New Jersey Governor Chris Christie delivers a rumbling, anti-tax, populist keynote speech, giving conservative bloggers and pundits the chance to consider "what if…"
Wednesday, August 29th: If this is anything like 2008, it'll be Wisconsin Congressman Paul Ryan's big moment in the sun — like it was Sarah Palin's four years ago — to get the crowd roaring and quietly wondering if the ticket should maybe be flipped.
Thursday, August 30th: Mitt Romney (introduced by Marco Rubio) accepts the Republican presidential nomination, proving that nothing is impossible as long as your stiffest competition includes Rick Perry, Newt Gingrich, and Rick Santorum.