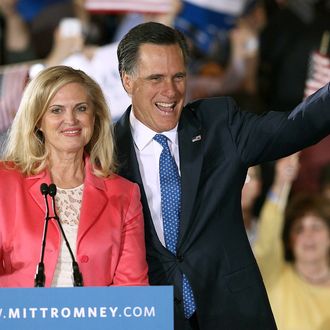 Photo: Win McNamee/2012 Getty Images
The RNC's plan to create a Romney "bookend effect" at next week's convention, with Ann speaking on Monday night to assure voters that the man accepting the nomination on Thursday isn't a robot, may be foiled by the major network's commitment to airing programs people will actually watch. The New York Times reports that NBC, CBS, and ABC don't intend to air any of the Republican National Convention on Monday night, with reruns of Castle, Hawaii Five-O, and a new Grimm trumping Ann's speech. Though it seems that the party should have known weeks ago that the networks wouldn't broadcast four full days of prime-time convention coverage, the Romney campaign was fuming. "I don't think it's the decision that Bill Paley would have made," quipped a senior Romney adviser, underscoring the need for Ann to paint her husband as a guy people born after 1957 can relate to.
In 2008 the three networks went live for an hour each night, but this year's convention isn't expected to draw as many viewers. After all, we've already elected the first black president, and while Paul Ryan is certainly adept at killing animals, noodling and fiscal policy haven't captured the nation's attention the same way that moose stew and Tina Fey glasses once did. Like in 2004, the networks will only broadcast three hours of live coverage for each convention. The Democratic convention is only three nights long, but that means the Republicans lose Monday night coverage. Now the Republicans are considering a last-minute schedule change to get Ann Romney into prime time.
The Times reports that thanks to the networks' decision to skip convention coverage, "tens of millions of people will not be able to watch" the first night of the Republican National Convention. That may not be entirely accurate. The full convention will be broadcast live on CNN, MSNBC, Fox News, PBS, and streamed on various websites. However, it's true that Republicans are losing the millions of viewers who would have been angry to learn that their Monday night show was preempted, but too lazy to change the channel.