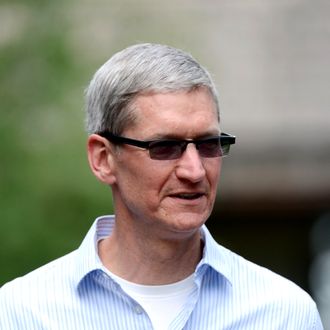 U mad?
Photo: Kevork Djansezian/Getty Images
It's no secret that Apple is a massive company. Its near-incomprehensible growth has spawned a Tumblr ("Things Apple Is Worth More Than") and led market-watchers to invoke the law of large numbers in assessing its future.
But today, Apple hit a new milestone that, while not all that relevant in the market, is still pretty damn impressive: The Cupertino giant's $620 billion market value surpassed the previous record set by Microsoft in 1999, making it the most valuable company ever traded.
In addition to its statistical significance, Apple's breaking of Microsoft's old record is a nice bit of posthumous poetic justice for Steve Jobs, who struggled for years to compete, both in the courts and on the bottom line, with Microsoft's massive share of the software market.
Thinking about Microsoft's former dominance got us wondering: What happened to all the former holders of the number-one-in-market-cap title?
We asked S&P Capital IQ to send over a list of all the companies that, for any period of time since 1980, have been the biggest by market value in the world.
What we learned was deeply edifying. For roughly the last three decades, it turns out, only a handful of companies have worn the market-cap crown. IBM and Exxon Mobil traded off in the eighties, with Exxon reaching a record-breaking $139 billion value in September of 1987. Both companies faltered slightly in the late-eighties and early-nineties, allowing others to step into the winner's circle. In July of 1990, Walmart very briefly held the top spot, with a roughly $70 billion market value.
General Electric won the nineties, with a market value that reached around $300 billion at its peak. Then Microsoft — and very briefly, Cisco — took over. It reached the all-time (until yesterday) high-water mark of $620.58 at the very end of 1999.
Since the tech bubble popped, Microsoft has been eclipsed in size by Exxon again, but also at times by GE and Walmart. Today, Exxon stands in second place, with a market value of $405 billion.
Here, in slightly more visual form, are the ten-year market cap charts for all six of those companies, showing how their values have fluctuated over the last decade:
As you can see, Exxon is still faring very well, despite losing its superlative to Apple. GE, on the other hand, has faltered since its highs in the early aughts, and lost billions during the financial crisis that it has yet to recover.
Microsoft, which achieved its record-breaking valuation during the last great tech bubble, is now worth only $257 billion, a fraction of its former worth. (Were our chart-maker able to go back twenty years instead of ten, you'd see the light-blue line nose-dive more dramatically.)
The race for first place in corporate market value may seem like so much statistical noise, but one point is worth emphasizing: A company that reaches a market value in the hundreds of billions of dollars has typically found a product (oil, in Exxon's case) or a business model (an ultra-aggressive retail supply chain and a huge, cheap labor force, in Walmart's) that transforms American commerce at large, and allows it to remain a top-five company for decades. Put simply, there are no flash-in-the-pan $200 billion companies.
Apple, the newest entrant to the market-cap MVP club, has many of the same qualities as its blue-chip brethren — wildly profitable product lines, massive global growth, and, on a less positive note, a bevy of worrying labor issues — but hasn't yet proven that it has the stamina to stay atop this particular chart for another decade.
Of course, with a $117 billion cash pile, it has some breathing room. After all, second place isn't even close.