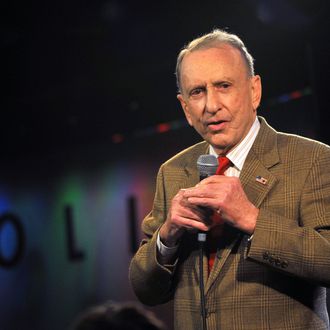 Specter.
Photo: Jude Domski/Getty Images
Former U.S. Senator from Pennsylvania Arlen Specter has been taken to the hospital due to a "serious" illness, friends of Specter told Philly.com. Those friends did not specify what currently ails the longtime senator who was treated for Hodgkin's disease in 2005 and again in 2008 when it resurfaced. An occasional stand-up comedian focusing on politics, Specter had been scheduled to perform a comedy set at a charity event last Wednesday but canceled owing to personal reasons. Specter represented Pennsylvania from 1981 to 2011 as a Republican up until the end, when he changed his stripes for the Democratic Party. A friend of Specter's asked that people keep him in their thoughts and prayers.

Update: CNN reported that a source close to Specter's office said he was diagnosed with a "serious form of cancer" six weeks ago and suffered "a big flare-up" Monday night.