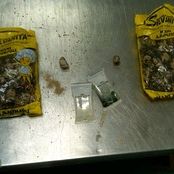 No ordinary candies.
Photo: Office of the Special Narcotics Prosecutor
The leader of the purported drug smuggling operation is Jorge Guerrero of Queens, a 39-year-old who had been working for a private company that handled baggage deliveries to passengers who lost luggage. According to The Wall Street Journal, a joint operation conducted by the office of New York City's Special Narcotics Prosecutor and Homeland Security Investigations' JFK Narcotics Smuggling Unit found multiple drug shipments from Ecuador to JFK, one of them containing three pounds of cocaine "stuffed inside professionally packaged empanadas." The group certainly gets points for creativity: It also soaked scuba diving certificates with liquid cocaine and put heroin in chocolate candies. The Daily News reports that a raid of Guerrero's house turned up expensive bags, iPads, iPods, iDrugs, and other valuables. Police arrested Guerrero and five others New Yorkers on Tuesday on conspiracy and other drug charges.