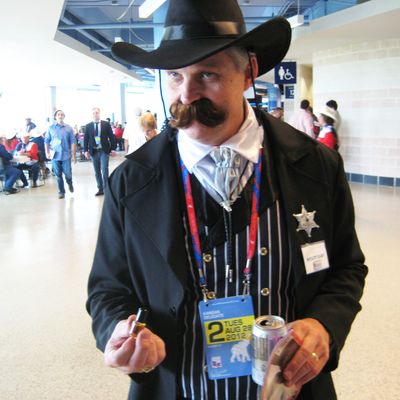 Wyatt Earp and his oversized mustache.
Photo: Dan Amira /New York Magazine
What's your name and where are you from?
My name is Todd Tiahrt. I'm from Bonner, Kansas. 
Todd Tiahrt … why does that sound familiar?
I'm a former member of Congress.
Ah. Did you retire, or did you lose an election?
I lost a primary for Senate in 2010. 
Why are you dressed like Wyatt Earp?
I lost a bet.
Really?
No. Actually, they said "Would you do this?" And I thought they said for a skit in the hotel. And so I got all ready for it, and they said, "No it's to go on the floor."
Who told you to do that?
This is just a friend of mine that's in the delegation. 
She had a Wyatt Earp costume on her?
She bought the costume for me. 
The only thing is, the Diet Coke is a little anachronistic.
Have you ever tried to drink a Diet Coke with a mustache like this? I'm about ready to throw it away.