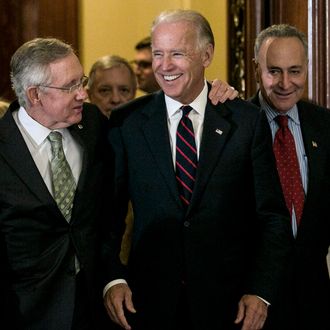 Photo: T.J. Kirkpatrick/2012 Getty Images
Traditionally candidates lay low during the opposing party's convention, but the Obama campaign has announced that on Monday and Tuesday next week Joe Biden "will travel to the Tampa area and other cities for campaign events," according to the New York Times. We'd say crashing a 4,400-person party is the job Biden was born for, but he has some other ideas.
On Tuesday Biden made an unscheduled appearance at a high school football practice in Minneapolis for reasons that are unclear. "I'm vice president, and let me tell you, I'd trade it all to go back and play my senior year again," he said. Politico notes that just a week ago, Biden said at a campaign stop in Virginia that his dream was to win the Daytona 500. "I'd trade being vice president in a heartbeat for having won Daytona," he said. Joe, your lifelong dream was to be the butt of a Simpsons joke, and you did it two years ago.