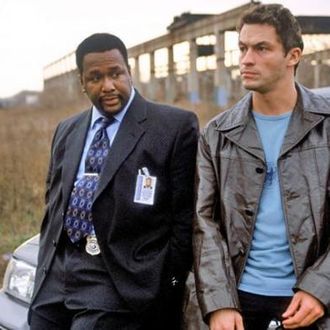 A new iPhone app out today is bringing drug slang to the mainstream in the grand tradition of The Wire. Burner is a $1.99 program that allows users to to create secret temporary phone numbers that can make calls and texts (for a small fee) to be used "for dating, Craigslist, short-term projects, side businesses, bands, and other times when you need to be in touch but want to maintain a little privacy." Unlike Google Voice, the numbers are meant to be disposable, and can be "burned" at will with the touch of button, leaving any weirdo you gave the alterna-digits to drunkenly at a bar out of luck.
The other side of things doesn't factor in to the company's pitch. Ex-girlfriend not taking your calls? Bored and looking to do some Jerky Boys impressions? Dealing drugs and hoping to keep customers separate from mom and dad? Maybe that's what they mean by "side businesses."
Presumably an Avon Barksdale–level operation would need the security that actually comes with throwing away the no contract, pay-as-you-go gas station phones known as burners, but with an app like this, maybe poor Bernard's life (NSFW!!) would have been a bit easier.