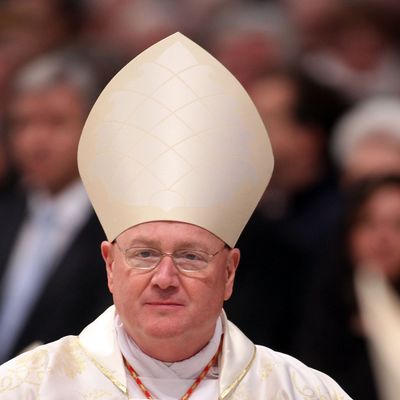 Photo: Franco Origlia/2012 Getty Images
In an interview with the Roman Catholic broadcaster EWTN, Mitt Romney revealed today that Cardinal Timothy Dolan will deliver the closing prayer after he accepts the Republican nomination next week in Tampa. Though it's hard to imagine a more political event, Dolan wants to make it clear that this isn't a partisan move and doesn't mean he's endorsing Romney for president. In fact, he'd be willing to give the benediction at the Democratic National Convention as well, though that would be kind of awkward since his archdiocese is currently suing President Obama over his birth control mandate.
Joseph Zwilling, spokesman for the Archdiocese of New York, told the New York Times that Cardinal Dolan agreed to participate "within the last two weeks." He added:
"Cardinal Dolan is going to pray, not to engage in partisan politics. He made it clear when he accepted the invitation that he would also accept an invitation from the Democratic National Committee to offer a prayer at their convention, should they ask … He is going simply to pray, which is part of what a priest should do."
Dolan was one of the leaders of Catholic effort to block President Obama's mandate that religious organizations must include coverage for birth control and emergency contraception in their employees' health insurance. Religious leaders weren't satisfied with Obama's compromise, which involved insurance companies covering the cost of birth control for organizations that object on religious grounds. In May, 43 Catholic groups across the country filed lawsuits against the Obama administration, charging that the mandate violates their religious freedom.
Romney actually revealed that Dolan will be appearing at the convention in a response to a question about Catholic bishops' opposition to Obama's health care plan. Romney said he plans to continue to meet with Cardinal Dolan, and wants to make it "very clear that the interest of religious freedom is something I support wholeheartedly." It's more common for the local bishop to give the blessing at the convention, but Dolan's leadership on the health care issue isn't the only possible reason that the Romney campaign tapped him instead. When Cardinal Dolan served as the archbishop of Milwaukee from 2002 to 2009, he became close with a certain Catholic representative from Wisconsin, who'll also be accepting his party's nomination next week.