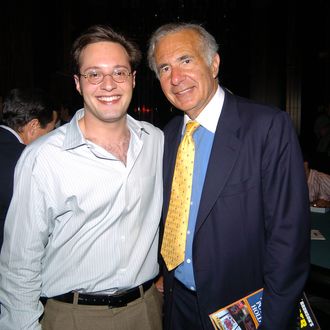 Don't mess this up, kid.
Photo: Patrick McMullan
Some dads mark their sons' passages into adulthood by giving them a cherished keepsake — a pocket watch, a set of cuff links, a family heirloom.
Activist investor Carl Icahn let his 32-year-old son Brett know he was ready to be a man by giving him a $3 billion investment allowance, and testing his worthiness as a potential successor.
According to Bloomberg:
Icahn agreed to allocate as much as $3 billion to a management duo composed of his son Brett and David Schechter, expanding their role in running the 76- year-old's investments. Under a 46-page legal agreement filed with federal regulators last month, Brett Icahn and Schechter will get to invest their boss's capital in companies with stock market values between $750 million and $10 billion. The deal may free the elder Icahn, who still has final say over many aspects of the portfolio, to focus on larger targets for shareholder activism.
Icahn père's gift — which one observer described to Bloomberg as "a pretty nice gesture by the old man" — will give Brett the chance to prove himself worthy of inheriting the Icahn empire. Brett, who has worked for the family business for a decade, has put up impressive returns with a smaller portfolio in recent years, but his father's decision to place $3 billion in his son's hands has upped the ante considerably.
The Billy Madison-esque arrangement expires in 2016, giving Brett a few years to live up to his father's impossibly enormous expectations.