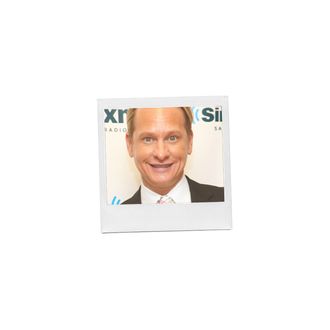 Photo: Astrid Stawiarz/Getty Images
Name: Carson Kressley
Age: 42
Neighborhood: Murray Hill
Occupation: Television personality and fashion designer, currently in the running to be on Dancing with the Stars: All-Stars. You can vote (up to five times per day) for him here. 
Who's your favorite New Yorker, living or dead, real or fictional?
Hmm, that's a hard one to choose, there are so many. I don't know whether to say Truman Capote or the Naked Cowboy, or a combination thereof.
What's the best meal you've eaten in New York?
I'm really simple: I just love spaghetti Bolognese at Scarpetta. It's just the most amazing comfort food ever, rich and satisfying. There's also something kind of glamorous about eating spaghetti Bolognese. It makes you feel like you're in Milan, even if you're not.
In one sentence, what do you actually do all day in your job?
I think ultimately I make people happy: Whether I'm doing the stage show, giving somebody a makeover, or designing clothing, the end goal is to make people smile.
What was your first job in New York?
Working for the American Horse Shows Association, which is kind of like the NFL of equestrian sports. It was great, but then I realized I could not live by nonprofit wages alone.
What's the last thing you saw on Broadway?
This is embarrassing but there's a show called Cock. It was right up my alley, so to speak (oh, that sounds awful).
Do you give money to panhandlers?
I usually don't because I give to charities, but I kind of sometimes do. Like if I'm feeling particularly guilty that day I definitely do.
What's your drink?
Patrón and soda.
How often do you prepare your own meals?
Probably twice a week. I can make a really amazing spaghetti squash in the microwave.
What's your favorite medication?
Lunesta.
What's hanging above your sofa?
I have big, floor-to-ceiling bookcases behind my sofa. It's filled with a lot of design books, my Emmy, a bar, and some antique silver.
How much is too much to spend on a haircut?
More than $250? It depends how much hair, really. That's kind of like saying "how much did it cost to paint your house?" It depends how big your house is!
When's bedtime?
I'm a night owl: usually one or two in the morning.
Which do you prefer, the old Times Square or the new Times Square?
The old. There's just a certain gritty charm about it that just seems so real. And I just think New Yorkers are all about being real, so it seemed more authentic to me.
What do you think of Donald Trump?
Great guy, terrible hair.
What do you hate most about living in New York?
I guess maybe traffic? But I don't really drive. That's like a bad answer for Family Feud, when you say "Traffic" and then it's "Survey says … zero!" But I guess also what I don't like about New York is that recently it's becoming more homogenized. And a little more franchised.
Who is your mortal enemy?
Pleated khakis.
When's the last time you drove a car?
This morning. I'm actually in Maine, and I was driving to the beach.
How has the Wall Street crash affected you?
I try not to open those letters, you know, like 401(k) statements. So I don't know, but I hope for the best.
Times, Post, or Daily News?
Post.
Where do you go to be alone?
My bathroom.
What makes someone a New Yorker?
I think being individual. Even though we're such a populous city we still have the most individuals, and I love that about New York.