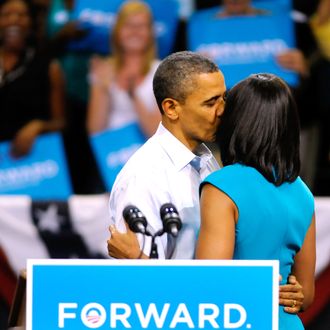 Aw.
Photo: Sara D. Davis/Getty Images
Back in 2007, President Obama described his first date with then-law firm colleague Michelle Robinson to Oprah's magazine, O: "I treated her to the finest ice cream Baskin-Robbins had to offer, our dinner table doubling as the curb. I kissed her, and it tasted like chocolate." Sort of gross ice cream backwash description aside, the owners of Dorchester Commons — the Chicago shopping center where the Baskin-Robbins was located — saw an opportunity to generate some foot traffic.
Today, after two and a half years of planning, a 3,000-pound granite boulder topped with a bronze plaque bearing a photo of the couple, the story, and the phrase "On this site, President Barack Obama first kissed Michelle Obama" was unveiled at the corner of Dorchester Avenue and 53rd Street in Hyde Park. A spokeswoman called it "A marker for the community, for posterity and tourism, too." And one of embarrassment for Sasha and Malia.