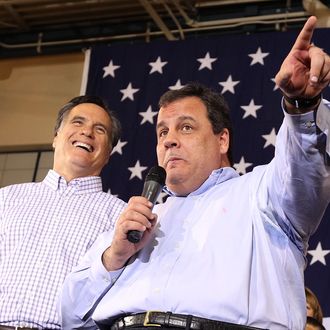 Republican presidential candidate former Massachusetts Gov. Mitt Romney (L) looks on as New Jersey Gov. Chris Christie (R) speaks during a rally at Exeter High School on January 8, 2012 in Exeter, New Hampshire. With days to go before the New Hampshire primary, Mitt Romney is making a final campaign swing through the state.
Photo: Justin Sullivan/Getty Images
A campaign source told the New York Post that Christie was "high" on the vice-presidential short list but was removed when he said he would not be willing to quit his job as governor of New Jersey to run alongside Romney. He is, however, available to do the RNC's keynote speech — and to wage his own presidential bid later.