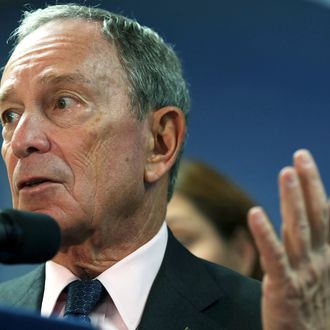 Photo: Spencer Platt/2012 Getty Images
In the days since the shooting in Aurora, Colorado, Mayor Bloomberg has stepped up his pro-gun-control rhetoric and attempted to fill the void left by politicians who just want to avoid the issue. Therefore, it might seem surprising that the city sold 28,000 pounds of the NYPD's spent shell casings to a Georgia ammunition store. However, the Bloomberg administration is trying to nip the scandal in the bud by shrugging off news of the sale and saying it would even do it again.
At the NYPD's firing range, officers collect their spend spent shell casings, which are reusable. The New York Times reports that in the past the shell casings have been sold to scrap metal companies, but in June they were sold to Georgia Arms for $69,696. The casings were then reloaded with bullets and sold to the public. 
The city hasn't broken any laws, and in fact officials say they're legally obligated to sell to the highest bidder. The fate of used shell casings is also fairly insignificant in the larger gun control debate. However, the paper suggests it's at least questionable for the city to play a part in Georgia selling discounted bullets to anyone over 21, while in New York it's illegal to sell ammunition to someone who doesn't have a gun license. John Feinblatt, the mayor's chief policy adviser, responds that Bloomberg has no problem with the sale:
"He believes, as do all members of Mayors Against Illegal Guns, that our purpose is to keep guns out of the hands of criminals, not keep guns or ammunition away from law-abiding citizens … There's a big distinction between legal dealers and illegal dealers and criminals and law-abiding citizens."
Georgia doesn't require ammunitiion sellers to weed out the criminals from the law-abiding citizens, and when Mayors Against Illegal Guns took a look at where illegal guns recovered in crimes originated, Georgia was the tenth biggest source in America. But does New York have an obligation to stop selling the shell casings to Georgia stores just because a small number may be used in crimes? The Bloomberg administration suggests it's enough to comply with the letter of the law, even if it might mean the state is unintentionally participating in a broken system. Just file that one away for when the city is criticizing New Yorkers who continue to buy Big Gulps under the soda ban, even though they'll be legal at 7-Elevens under some illogical loophole.