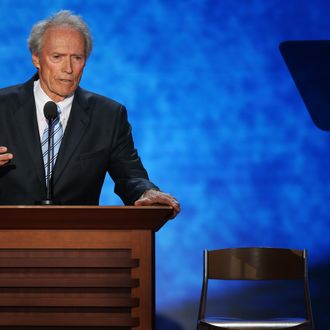 The chair in action.
Photo: Mark Wilson/Getty Images
This week a number of conservative luminaries, ranging from Tim Tebow to Sarah Palin, were rumored to be the Republican National Convention's surprise guest. On Thursday afternoon it was widely reported that Clint Eastwood would be the big star speaking before Romney, but that was just a diversion. Sure, Dirty Harry took the stage and delivered the worst speech anyone has ever given, but judging from the reaction to the appearance, he was mainly there to introduce the next American phenomenon: an empty chair that does a mediocre impersonation of President Obama.
It seems that people in the convention center were wild about the comedy duo's routine, but those watching at home had a much different take. Here's a sampling of the response on Twitter (the many remarks suggesting that Eastwood was drunk have been excluded):
Clint Eastwood became huge star as a man of few words As a surprise guest on the Tampa stage he had too many words (I say as a friend) — Tom Brokaw (@tombrokaw)

Clint Eastwood is still continuing that speech backstage to a water cooler. #RNC — Mike Polk Jr. (@mikepolkjr)

Backstage somewhere, Clint Eastwood is yelling at people for almost sitting on Invisible Obama. — delrayser (@delrayser) 

I was so upset about the end of the Vandy game I hallucinated Clint Eastwood was talking trash to an empty chair at the RNC. — Willie Geist (@WillieGeist)

After Clint Eastwood's chair, Romney is back stage feverishly making a sock puppet. — CJ Werleman (@rationalists)

Clint Eastwood; I hate lawyers and politicians. And now: here's Mitt Romney!!!! — Christopher Hayes (@chrislhayes)

"If Clint Eastwood ever talks to a chair on national TV, people will need a way to reassure each other" – inventor of Twitter, March 2006 — Patton Oswalt (@pattonoswalt)

Ben Linus talked to an empty chair once, too. — Damon Lindelof (@DamonLindelof)

Newt Gingrich just challenged Clint's empty chair to a series of Lincoln-Douglas style debates. — pourmecoffee (@pourmecoffee)

When Marco Rubio said "Do you think Obama's watching tonight?" Clint Eastwood should have run out and said "He's in that chair!" — Ben Greenman (@bengreenman)
The Daily News notes that within hours, the speech had sparked the meme known as "Eastwooding," which involves Twitter users posting pictures of their favorite unoccupied chairs. Even the non-imaginary President Obama jumped on the trend. "This seat's taken," Tweeted @BarackObama, along with a photo: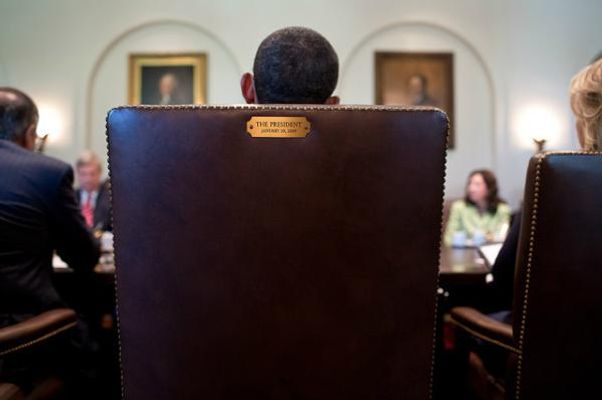 Eastwood's reputation may have taken a hit, but between this and its interview on Piers Morgan, empty chair's star is on the rise. Watch your back, inanimate carbon rod.