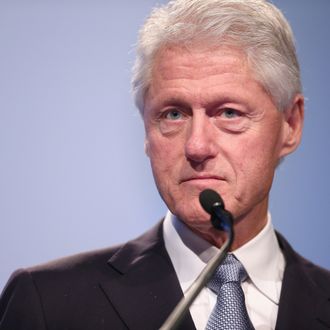 (Chip Somodevilla/Getty Images)
Photo: Chip Somodevilla/2012 Getty Images
On Tuesday, the Romney campaign released an ad claiming that on July 12, President Obama "quietly announced a plan to gut welfare reform" by doing away with the work requirements Bill Clinton signed into law with 1996's Welfare Reform Act. This is not even sort of true, but the Obama campaign will obviously still be forced to explain away the claim. To that end, Clinton has released a statement criticizing it.
Clinton pointed out that all the administration has done is enacted a policy that offers states more flexibility by allowing them to submit proposed changes to their welfare programs to the Department of Health and Human Services. He also explained exactly why this does not pose a threat to the reforms he instituted:
"The act emerged after years of experiments at the state level, including my work as Governor of Arkansas beginning in 1980. When I became President, I granted waivers from the old law to 44 states to implement welfare to work strategies before welfare reform passed.

"After the law was enacted, every state was required to design a plan to move people into the workforce, along with more funds to help pay for training, childcare and transportation. As a result, millions of people moved from welfare to work.

"The Administration has taken important steps to ensure that the work requirement is retained and that waivers will be granted only if a state can demonstrate that more people will be moved into work under its new approach. The welfare time limits, another important feature of the 1996 act will not be waived.
He added that the policy was originally requested by Utah and Nevada's Republican governors, and that he found the ad "especially disappointing because, as governor of Massachusetts, [Romney] requested changes in the welfare reform laws that could have eliminated time limits altogether."
Bringing Clinton into this fray indicates that Obama's campaign was more than a little rattled by the ad, which unsubtly suggests that the president is in favor of handing the middle class's hard-earned money over to people who can't be bothered to work. The ad's power is a product of the Romney campaign's signature aggressive dishonesty, and it seems the Obama campaign hoped that Clinton's remarks — which carry particular weight, having been issued by the person responsible for the reforms Obama is supposedly attacking — would serve as some kind of antidote.