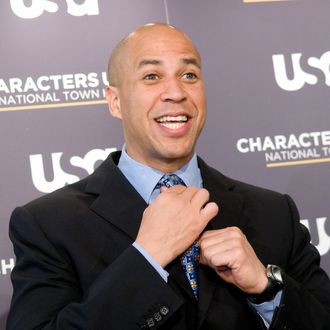 Photo: Kris Connor/2009 Getty Images
Considering that the presidential campaign ads have devolved to the point that recent spots suggested Obama mailed every American a welfare check and Romney sort of killed a woman, Cory Booker's complaint about President Obama's attack on private equity almost seems quaint. In a new interview with The Wall Street Journal, Booker stresses once again that he and the president have put the incident behind them. However, while Obama is clearly happy to have Booker fund-raise for him, it seems his role has been somewhat diminished following the incident.
Booker tells the paper that he still stands by his remarks on Bain, though he regrets trying to explain himself in an awkward YouTube video. "I made the dumb decision to do the hostage video," said Booker. "The whole thing became more myth than fact." Among those myths: The idea that the campaign forced him to make the video. In reality, the campaign only unleashed the good cop:
There's this assumption that they somehow bashed me. It wasn't like that at all. I talked to a member of campaign, who was in no way telling me to do things, no way being difficult with me. It was more like, help us understand what you were trying to say.

They said, "Mayor, what is your concern. Let's talk about that concern. And let's talk about what we are trying to say with this line of attack."
Booker says the president assured him that "it's all small potatoes," and he's still "stumping, running around as a surrogate" for the campaign. However, Booker hasn't appeared on television for the president since the incident, and it seems his primary task is raising money for the campaign. Booker has been hosting various Jefferson-Jackson dinners and is acting as a bundler for the campaign. Since June, he's raised more than a quarter of a million dollars.
Though Booker feels his role in the party has increased recently, he won't be giving the keynote at the Democratic National Convention — a task reserved for Julian Castro, the mayor of San Antonio — or speaking at all. Booker says that wasn't a surprise. "The polite way to say why I didn't have expectations is that I'm an African-American, northeastern Democrat in a safe state," he explained. "Maybe if I was a Latino from Nevada or San Antonio." See? He's still a good sport about everything. How many times does he have to say it before they'll let him back on Meet the Press?