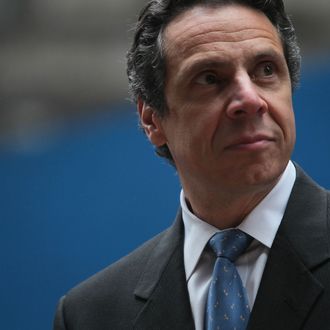 Cuomo looking around warily.
Photo: Chris Hondros/Getty Images
That's a slight exaggeration on our part, but we wouldn't be totally surprised if it turned out to be true. While Cuomo is presumed to be eyeing a presidential run in 2016, he doesn't want the speculation to get out of control too early (as it did with his father after his 1984 convention address), and consequently, he's decided to make himself barely noticeable at the Democratic National Convention in early September, the Wall Street Journal reports:
Mr. Cuomo doesn't plan to attend the festivities in Charlotte, N.C., until the last day, Sept. 6, when President Barack Obama is expected to accept his party's nomination for a second term, the aide said Wednesday. He isn't currently scheduled to speak and has asked Assembly Speaker Sheldon Silver to announce the New York delegation's vote.
If people try to talk to him or take photos with him, he will pretend to be Fandrew Cuomo, Andrew Cuomo's twin brother who only speaks Italian.