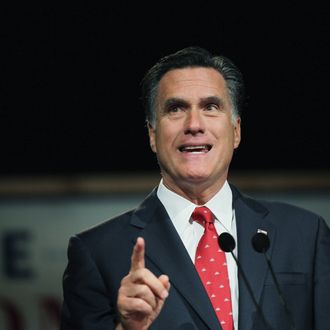 Photo: Scott Olson/Getty Images2012 Getty Images
Yahoo's Washington bureau chief David Chalian was participating in the hot new trend of political webcasts from the Republican National Convention when he was inadvertently caught on a live microphone channeling Kanye West. "They're not concerned at all," Chalian exclaimed to laughs about Mitt Romney and the Republicans, in reference to Hurricane Isaac. "They're happy to have a party when black people drown." The accidentally recorded comments were quickly seized upon by the conservative watchdog NewsBusters. Yahoo, rather than standing by their man and fighting accusations of a liberal bias, promptly fired Chalian and apologized.
"David Chalian's statement was inappropriate and does not represent the views of Yahoo!," said the company in a statement. "He has been terminated effective immediately. We have already reached out to the Romney campaign, and we apologize to Mitt Romney, his staff, their supporters and anyone who was offended." Objectivity wins again.
Update: Chalian has published the following statement:
I am profoundly sorry for making an inappropriate and thoughtless joke. I was commenting on the challenge of staging a convention during a hurricane and about campaign optics. I have apologized to the Romney campaign, and I want to take this opportunity to publicly apologize to Gov. and Mrs. Romney. I also regret causing any distraction from the exceptional coverage of the Republican convention by Yahoo News and ABC News.