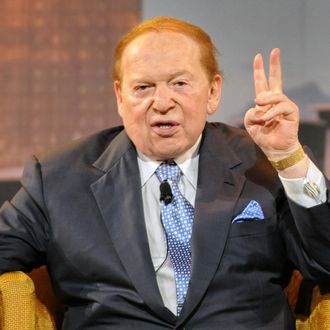 Adelson.
Photo: Roslan Rahman/AFP/Getty Images
The Democratic Congressional Campaign Committee bowed on Thursday to Sheldon Adelson's threat to sue for falsely accusing the very rich casino magnate — who has been throwing wads of cash at pro-Romney super-PACs and other GOP groups — of dabbling in the pimping business. It all started in late June, when the Associated Press reported that the fired former chief executive of Las Vegas Sands Corp.'s Macau casino alleged in a civil lawsuit that Adelson "personally approved of prostitution and knew of other improper activity at his company's properties in the Chinese enclave."
According to ABC, the DCCC had some fun with that, referring to Adelson's financial relationship with certain prominent Republicans with a post on its website asking, "What will Speaker Boehner, Leader Cantor and House Republicans do with their Chinese prostitution money?" Adelson's attorney demanded a retraction, and he got it. Tail tucked firmly between legs, the DCCC wrote in a statement:
In press statements issued on June 29 and July 2, 2012, the DCCC made unsubstantiated allegations that attacked Sheldon Adelson, a supporter of the opposing party. This was wrong. The statements were untrue and unfair and we retract them. The DCCC extends its sincere apology to Mr. Adelson and his family for any injury we have caused.
Ron Reese, a spokesman for Adelson said in a statement that he was gratified that the DCCC "acknowledged the error." He continued, "More broadly, this should serve notice to those who would attempt to smear Mr. Adelson by repeating the false and inflammatory statements of a fired employee — that this is a very slippery slope."
In other words, Adelson's threats to sue are not idle and he will rain hell upon you with expensive lawyers if you attempt to besmirch him.