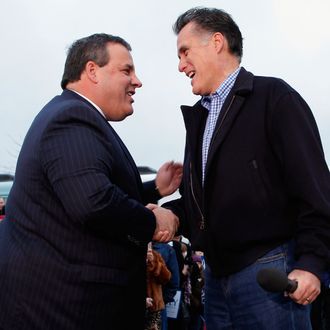 Photo: Chip Somodevilla/2011 Getty Images
Since announcing his VP pick, Mitt Romney has been praised for selecting a slightly less boring white guy, but why did he go with Paul Ryan when he could have picked entertaining white guy Chris Christie? We assumed it might have something to do with his calls for Romney to release more tax returns or his tendency to call reporters idiots, but according to the New York Post, the real reason is that Romney felt Christie didn't really believe in him — or at least not enough to give up his position as governor for a chance to putter around the White House for the next four years.
The Post's anonymous sources report that the Romney campaign demanded that Christie promise to step down if selected to be VP, but he refused. "[Christie] felt, at one point, that [President] Obama could lose this. And, look, there still is that chance. But he knows, right now, you have to say it's unlikely," says a source. "There were people around him that wanted him to reconsider, to actually push to be vice president. But he's known there are real issues here. Chris knows the score."
While Team Romney probably wasn't thrilled about Christie putting his money on Obama, the real issue was that having a sitting governor on the ticket would severely limit the campaign's fund-raising ability. The SEC has rules that restrict how much certain types of bankers can give to governors' campaigns, and the Romney campaign wasn't interested in losing donors from the likes of Goldman Sachs, JP Morgan Chase, and Morgan Stanley.
Christie would probably say that he's too committed to the people of New Jersey to step down, but there may be another factor involved. In case you haven't noticed, Christie is a bit overweight, and in a lengthy article on the topic, an expert tells Bloomberg News that Christie's size could be holding him back. "We live in a media age in which there are these conventional expectations of what a successful individual looks like," said Russell Riley, chairman of the Miller Center's Presidential Oral History Program at the University of Virginia. "The closer you comport with those kind of cultural ideas about how someone on television looks, the better you do."
Of course, it's possible that Romney simply preferred Ryan, and the Republicans still like Christie enough to give him the honor of delivering the keynote address on Tuesday. The speech can be a turning point for an up-and-coming politician, but the folks at Bloomberg News have helpfully taken some of the pressure off by reminding Christie that Americans have lost their tolerance for Taft-sized leaders.