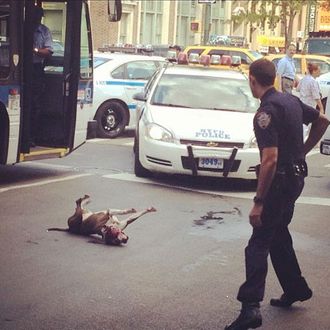 Star is not dead in this photo.
Photo: @MrEddieHuang
Here's a miraculous (but still not exactly uplifting, quite yet) update to yesterday's story of a dog who was shot in the head by police. As the Daily News reported last night, the dog, whose name is Star, is alive and was transported to an animal-care facility in East Harlem. A spokesman for Animal Care & Control of NYC confirms to us via e-mail that the dog "is being provided medical care by Animal Care & Control of NYC and is in stable condition at this time." Gothamist has more on the dog's status:

Medical Summary brought in by police was shot by police and tranquilized by unknown drug dog was sedated and covered in blood on head and front legs cleaned dog up and found blood to be oozing from left eye socket, and nostrils, oral exam — larynx filled with blood, placed endotracheal tube, mass on distal left soft palate, crepitus felt(possible fx or final placement of bullet) swelling on left side of face no other abnormalities felt placed 2 iv cath in left cephalic and left saphenous veins, cont IV LRS bolus at shock rates (1000 ml) dexamethasone 2mg/ml 3cc iv vit B12 6cc IM gave 1cc yohimbine iv to reverse effects of xylazine? administered recc rads to find bullet and possibly remove transfer to emergency for observation and further tx Weight 45.0
We only understand about half of it, but it does not sound great. We're pulling for you, Star.