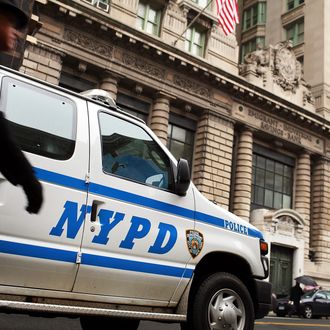 Photo: Spencer Platt/2012 Getty Images
Clara Heyworth was killed last summer while walking with her husband in Fort Greene by an unlicensed, possibly drunk driver that was ultimately not charged with a felony. Today, a Brooklyn judge sentenced that man, Anthony Webb, to a drunk-driving program but no jail time, and fined him $250 for operating a vehicle without proof of insurance and against the restrictions of his learner's permit.
Despite the Brooklyn D.A.'s recommendation of a fifteen-day jail sentence, "It was pretty clear that the judge was frustrated by the failure to press more serious charges in this case," said Heyworth's husband Jacob Stevens, who is suing the driver and the NYPD for its botched investigation. "It's a travesty that these more serious charges won't be heard in criminal court."
Heyworth's story has helped shine a light on the broken NYPD practices in accidents involving cyclists and pedestrians. Because she did not die immediately, but in the hospital the following day, the department's Accident Investigations Squad did not conduct a full survey of the crash site that night. Felony charges were still a possibility against Webb, who blew a .07 on a breathalyzer test an hour after the accident (with .08 being a DUI). But the NYPD's test device had not been properly calibrated, and was thus not admissible in court.
"Everyone thinks they live in a city where roadside accidents are investigated," Stevens told the Times in June. "It was staggering."
After today's hearing, he explained to Gothamist, which has covered the case in-depth, "During the very brief trial the judge made a number of comments criticizing the DA's office for not bringing more serious charges and reducing it to a violation." He added, "If the defendant had observed terms of license and not driven that day, my wife would still be alive."