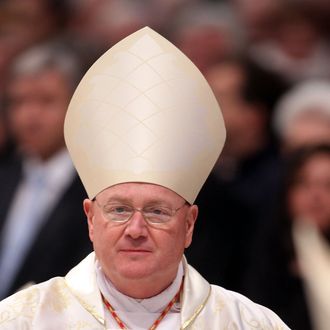 Cardinal Timothy Michael Dolan Archbishop of New York. (Franco Origlia/Getty Images)
Photo: Franco Origlia/2012 Getty Images
In a long investigation published online yesterday, The Economist took a close look at the financial health of the American Catholic Church, and its diagnosis is not good.
>
The sins involved in its book-keeping are not as vivid or grotesque as those on display in the various sexual-abuse cases that have cost the American church more than $3 billion so far; but the financial mismanagement and questionable business practices would have seen widespread resignations at the top of any other public institution.
Much of the financial skullduggery is linked to the slate of sexual-abuse cases that have cost the church more than $3 billion, driven at least eight dioceses into bankruptcy — including San Diego, which, to decrease its settlement liability, listed the value of a whole downtown city block at just $40,000, what it had paid in the forties. Meanwhile, as the church's reputation has taken a dive, so have parishioner donations, which are believed to be down as much as 20 percent, to around $13 billion a year.
Then again, the American Catholic Church spends just six percent of its $170 billion annual budget — more than General Electric earns each year — on the upkeep of local parishes. In reality it's like a large public-private corporation, funding itself increasingly through publicly-held debt, running a hospital system four times larger than the U.S.'s biggest private hospital chain, HCA Holdings, and operating a network of schools four times larger than the New York City Department of Education. 
Speaking of New York City (emphasis added):
Timothy Dolan, the president of the United States Conference of Catholic Bishops and Cardinal-Archbishop of New York, is believed to be Manhattan's largest landowner, if one includes the parishes and organisations that come under his jurisdiction. Another source of revenue is local and federal government, which bankroll the Medicare and Medicaid of patients in Catholic hospitals, the cost of educating pupils in Catholic schools and loans to students attending Catholic universities.