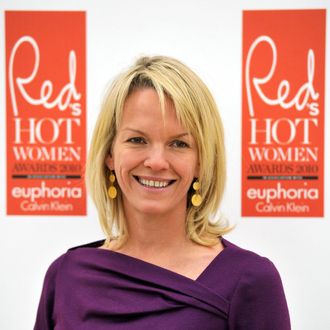 Photo: Gareth Cattermole/2010 Getty Images
At the MacTaggart Lecture in Edinburgh on Thursday, Rupert Murdoch's daughter Elisabeth took some shots at her own family and the company she works for over the array of scandals that have sullied their name. Following in the footsteps of her father and brother James, who have also delivered the same keynote address in years past, Elisabeth spoke to TV execs about the state of the industry — she runs the production company Shine, owned by her father's News Corp. — but she asserted her independence by deviating from the Murdoch men when it comes to morality and the bottom line. In James's remarks in 2009, he said, "the only reliable guarantee of editorial independence is profit." Elisabeth countered today, "Profit without purpose is a recipe for disaster," adding, "Profit must be our servant, not our master." Sounds like someone's ready to be in charge.
Elisabeth acknowledged the "dearth of integrity" found by the Leveson inquiry's investigation into press ethics, inspired by News Corp.'s phone-hacking, and said "sometimes self-serving relationships" between media, politicians, and police are a reminder that "with great power comes responsibility." Hear that, Dad?
With Rupert's once-assumed heir James damaged, the ultimate News Corp. responsibilities could one day fall to Elisabeth. As described in this New York story last year, she has been frequently overshadowed by her brothers and she has often disagreed with the way the business was run. But her distance from phone-hacking and the presence of her ambitious and connected PR husband Matthew Freud give her new advantages, which she's apparently ready to highlight.
And while differentiating herself is a strong play in the internal power struggle, it's also good image-management for the family and business as a whole, now and moving forward. "News [Corp] is a company that is currently asking itself some very significant and difficult questions about how some behaviors fell so far short of its values," Elisabeth said today. "Personally I believe one of the biggest lessons of the past year has been the need for any organization to discuss, affirm and institutionalize a rigorous set of values based on an explicit statement of purpose." Her own statement of purpose is coming through loud and clear.