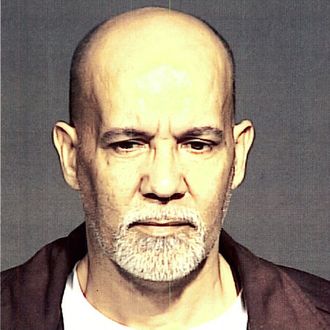 NYPD officers were back in lower Manhattan today investigating the space where Pedro Hernandez says he killed 6-year-old Etan Patz in 1979. WYNC reports that cops were in and out of the Soho basement at West Broadway and Prince Street, removing at least six large paper bags from the area beneath the former bodega. Hernandez, who used to work in the building, has confessed to abducting and murdering the boy before disposing of the body in a trash bag on the street, but physical evidence tying him to the crime has remained elusive. Still, police say they're "absolutely certain" they have the right guy.
DNAinfo reports today that Hernandez's former wife found a photo of Patz, apparently ripped from a missing-person flier, among her then-husband's things. "What is this?" she asked, according to a law enforcement source. "You better put that away," he commanded her. But a search of the New Jersey house where Hernandez lived at the time turned up nothing. "One of the things they were looking for when they got a search warrant for the house was this picture or this box but they didn't find it so they'll have to use her testimony," a source told the Post.
Hernandez has only explained his crime by saying he had an "urge" to harm the boy. After a period of psychiatric evaluations, he was moved to Rikers Island last month, and is due in court on October 1.