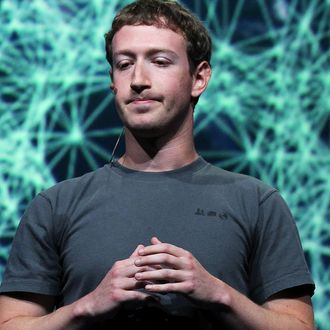 Facebook CEO Mark Zuckerberg pauses as he delivers a keynote address during the Facebook f8 conference on September 22, 2011 in San Francisco, California. Facebook CEO Mark Zuckerberg kicked off the conference introducing a Timeline feature to the popular social network.
Photo: Justin Sullivan/Getty Images
Here's an eye-catching data point to start your weekend: Facebook stock is now trading around $19, or half of its $38-a-share IPO price. For more substantive Facebook coverage than the 475 articles that will be written about this arbitrary and ultimately meaningless threshold, read this entire thing by Henry Blodget.