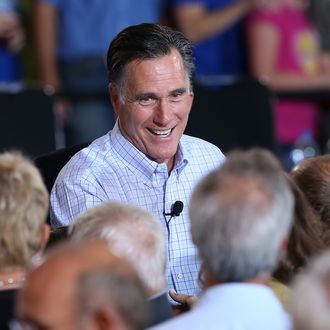 Some Romney business deals don't resemble the last five minutes of
The Apprentice
.
Photo: Justin Sullivan/2012 Getty Images
If you've been watching pro-Obama campaign ads, you might be under the impression that Mitt Romney's primary occupation at Bain Capital was indirectly ruining the lives of middle-class Americans. However, the New York Times has managed to find an average couple who were actually better off following their interaction with Romney. 
The paper reports that in the eighties, Romney invested in Texas real estate and wound up renting a home to Timothy and Betty Stamps. After the housing market collapsed in the nineties, Romney decided to unload the homes. The Stamps were offered a chance to buy the house they'd been living in for five years, but they couldn't get a mortgage. "Then I got this phone call, personally, from Mr. Romney, asking if we really wanted to buy the house," says Timothy Stamps. "I said, yes we did. And he said he would loan us the money. He really helped us when we needed it."
The couple is still making mortgage payments to Romney and have nothing negative to say about him. The lesson here is clear: If you can give a firsthand account of a generous Romney business deal, now is the time to come forward. There might be a New York Times cover story in it for you.