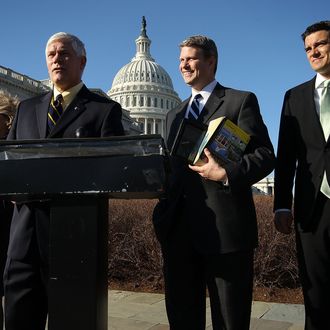 Rest assured, Rep. Yoder hasn't ruined international skinny-dipping for the rest of us.
Photo: Alex Wong/2012 Getty Images
It seemed a bit odd that FBI agents would drag themselves away from investigating serious international impropriety by government employees to look into reports that a few members of Congress joyfully frolicked in the Sea of Galilee in the nude. As it turns out, they didn't. While the initial report stated that the FBI had "probed" the possibly drunken merrymaking in Israel, it now seems that agents just stumbled on the story while investigating Staten Island Rep. Michael Grimm's allegedly shady, but mostly clothed, dealings.
While Rep. Kevin Yoder is taking all the heat for the incident, The Wall Street Journal reports that the FBI was actually only interested in Grimm's trips to Israel and Cyprus. Grimm, who is a former FBI agent, was accused of trying to extort money from an influential rabbi earlier this year, but he has yet to be charged. 
The Journal also helpfully interviewed "numerous congressional ethics-law experts" and determined that "the FBI does not care if lawmakers swim naked." Jan Baran, head of the election law group at Wiley Rein LLP, added, "Last time I checked, skinny dipping anywhere, including a foreign country, is not a federal crime." Surely our Founding Fathers wanted us to be free from the tyranny of bathing suits.