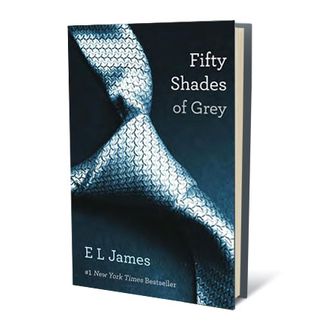 Once upon a time, American economic growth was a product of innovation, increased efficiency, and cutthroat competition.
This earnings season, our biggest market stimulant is an erotic trilogy that contains sentences like "My inner goddess is doing the merengue with some salsa moves."
In its second-quarter earnings report, Barnes & Noble — whose Nooks have been used to give more than a few suburban moms a glimpse of Christian Grey's red room of pain — attributed its strong same-store growth figures to "the liquidation of Borders' bookstores in fiscal 2012 and strong sales of the Fifty Shades of Grey series."
That followed a similar admission earlier this month by Church & Dwight, the company that owns the Trojan condom brand. According to the WSJ, C&D said that sales of its vibrators had skyrocketed since Anastasia met Christian.
On second-quarter earnings call, CEO Jim Craigie says he's pleased with distribution and sales of the Trojan brand's Vibrations line of sexual devices, "which we believe has been aided by the popularity of the 'Fifty Shades of Grey' novel."
Babeland, the sex toy marketplace, told the AP its stores have seen 40 percent sales growth in recent months, including "eye-popping increases for bondage toys."
The AP also reported that stores are gearing up for an influx of Fifty Shades–themed merchandise, including iPad covers, "Laters, Baby" wall decals, and a proposed line of Fifty Shades–themed bath fixtures, "including a Laufen washbasin with seductive curves and edgy Graff faucets in a brushed nickel."
So forget about the fact that we face mass unemployment, a fiscal cliff, Europe's nuclear debt reactor, the impending end of the tech bubble, and the worst corporate earnings season since 2009. Because in the Fifty Shades economy, all you have to do to ensure massive growth is get your products tied to E.L. James's revenue rocket ship.
Think about it, CEOs and CFOs: "Anastasia" Steel by Alcoa? Floggers by Ford? Next quarter could be a beautiful thing.