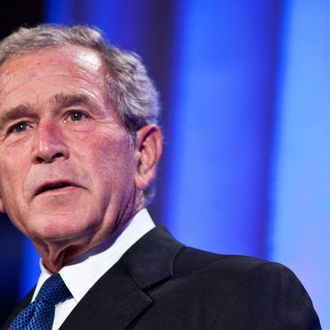 Photo: Brendan Hoffman/Getty Images
George W. Bush is no Bill Clinton. The most recent ex-president remains far too unpopular to have anything to do with next week's Republican National Convention, and so he's pretty much just hanging around these days, the Washington Post reports, reading the newspaper, working out, and eating peanut butter and jelly sandwiches. He's "spent much of the month with relatives at the family compound in Kennebunkport, Maine, where he played golf, rode bicycles and dined with friends. Back in Dallas, the former president will mostly play golf, ride bicycles and dine with friends." But it's not all retired life: There's also the George W. Bush Presidential Center, where his official library and museum will have some pretty … special features.
Along with "a ceiling paneled in pecan wood from Texas selected by Laura Bush," there will be a high-tech, game-ified version of W.'s biggest disasters:
In a virtual game room, or "sophisticated leadership training simulator," visitors will have a chance to respond to the many crises that Bush faced, including the invasion of Iraq, Hurricane Katrina and the 2008 financial meltdown. Bush will then appear on video and explain his rationale for what he calls "decision points," the key choices of his administration — some of which helped render him one of the least popular presidents in history.
And that's not all:
[One] room opens up onto 22-foot-high beams of twisted steel, now ghostly under plastic wrap, that once held up the 85th floor of the World Trade Center. The steel will be surrounded by walls bearing the names of the victims of 9/11 and a video loop of the Twin Towers getting hit and going down.
Over and over again — just to make sure we never forget.