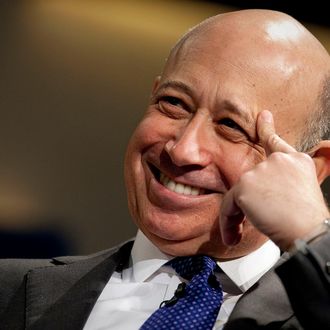 Photo: Scott Eells/Bloomberg via Getty Images
Lloyd Blankfein & Co. have evaded the wrath of federal security regulators for alleged misdeeds that led to the financial crisis. Goldman Sachs disclosed in a regulatory statement that the SEC has flip-flopped on a threat it made in February to seek damages against the bank for $1.3 billion worth of subprime mortgage securities that it sold in 2006. The bundled 5,000 mortgages ended up costing investors and taxpayers an estimated $545 million when they went sour.
The SEC had previously said it planned to sue Goldman over the deal, claiming that it knew the mortgages were bad even by the sketchy standards of the housing boom. The agency's about-face highlights the almost complete inability of regulators and law enforcement to hold anyone accountable for the crash. Goldman said it was "notified by the S.E.C. staff that the investigation into this offering has been completed, and that the staff does not intend to recommend any enforcement action." (There is, however, a related case still proceeding in which Fannie Mae and Freddie Mac have sued seventeen banks for selling crappy subprime mortgage securities.)

Between JPMorgan's "White Whale" trading losses, the Libor-fixing scandal, and charges that Standard Chartered skirted the embargo on Iran, giant banks certainly haven't been covered in roses in recent months. But when it comes to the excesses that led to the worst economic downturn since the Great Depression, not much seems to stick — and the statute of limitations is about to run out.