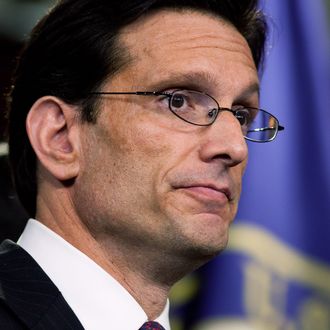 "Don't even think about removing those boxers, mister."
Photo: Brendan Hoffman/2011 Getty Images
During a trip to Israel a year ago, a group of Americans took a swim in the Sea of Galilee. Now it's being reported that their joyful vacation antics caught the attention of the FBI and Majority Leader Eric Cantor just because the party included a few members of Congress. And possibly some drinking. And one of the congressmen was totally naked.
Politico reports that during a fact-finding congressional trip to the Holy Land last August, Rep. Kevin Yoder of Kansas stripped down and jumped in the water. He was joined by about twenty other people, who remained clothed or only partially disrobed, including Representatives Steve Southerland, Tom Reed, Ben Quayle, Jeff Denham, Michael Grimm, and some of the representatives' family members and staffers.
It would have been nothing but a magical vacation memory for those involved, but Cantor, the highest-ranking lawmaker on the trip, decided to take on the role of Dean Wormer. When he found out about how the evening ended after he went to bed, he let the 30 or so lawmakers have it, saying they were distracting from the purpose of their trip. The American Israel Educational Foundation routinely finances trips to the Holy Land for members of Congress with the aim of strengthening the bond between the U.S. and Israel. The FBI also looked into the incident, but it determined that nothing inappropriate happened. 
When questioned, those involved offered a grab bag of excuses. Per Politico:
Many of the lawmakers who ventured into the lake said they did so because of the religious significance of the waters. Others said they were simply cooling off after a long day. Several privately admitted that alcohol may have played a role in why some of those present decided to jump in.
Somehow, that last explanation seems most likely.
When asked for comment, Yoder apologized and confirmed the report, saying he participated in a "spontaneous and very brief dive into the sea and regrettably I jumped into the water without a swimsuit." Politico notes that Congress has already been rocked by scandals and "this latest controversy could only further damage that image." We're not so sure. It seems Americans are furious at Congress for not getting anything done, but if they really committed to goofing off with some lovable, Animal House–style shenanigans, we might just come around.