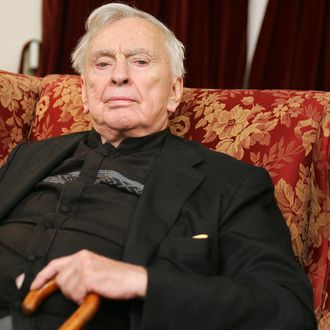 Photo: Robyn Beck/AFP/Getty Images
Gore Vidal, the prolific writer, essayist, and commentator, passed away on Tuesday at his home in the Hollywood Hills, according to the L.A. Times. His nephew Burr Steers says he died owing to complications from pneumonia.
Few people have had careers as long and varied as Vidal's. In addition to hundreds of essays, he penned best-selling novels including Lincoln and Myra Breckenridge. His book The City and the Pillar was one of the first novels to feature openly gay characters, causing major controversy when it was released in 1948. Vidal also wrote plays, films, TV series, and Broadway hits. The revival of his play The Best Man is currently running on Broadway and was nominated for two Tonys. When he wasn't writing, Vidal managed to find time to act in a handful of films and make two unsuccessful attempts at a political career, running for the House of Representatives in New York and for Senate in California.
Vidal hobnobbed with some of the biggest celebrities of the last century, ranging from Tennessee Williams to Frank Sinatra to Jacqueline Kennedy Onassis (who happened to be his relative).* As a frequent talk-show pundit, he famously feuded with William F. Buckley Jr. and Norman Mailer. His dispute with Buckley nearly came to blows, and the other actually did — Mailer allegedly head-butted Vidal before a 1971 TV show taping.
Vidal was one of the last writers to become a fixture in the national consciousness thanks to his ideas, wit, and personality. As he once said of himself, "I am at heart a propagandist, a tremendous hater, a tiresome nag, complacently positive that there is no human problem which could not be solved if people would simply do as I advise."