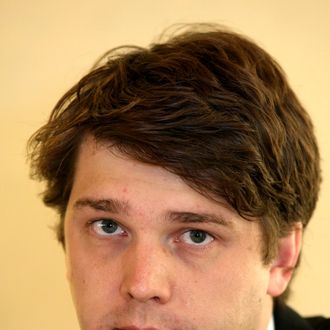 A man with a (questionable) plan.
Photo: SeongJoon Cho/Bloomberg/Getty Images
Groupon is having a bit of an existential crisis.

See, the daily deals purveyor, which you probably used to get $10 tickets to a 2010 whiskey tasting, has been testing out another, more conventional line of business in recent months: selling you deeply discounted tchotchkes, like face cream and an artisan yogurt-maker, through its Groupon Goods program. Essentially, it's trying to be more like Amazon.

Groupon's decision to try its hand at direct sales was initially seen as a win-win, a good way to add another revenue stream without endangering the lucrative daily deal machine at the heart of Groupon's business. But yesterday, as the company reported its second-quarter earnings, investors got a bit of unwelcome news: That core business, the one that truly brings home the bacon for CEO Andrew Mason and his team, is shrinking.
At first glance, Groupon's second-quarter earnings didn't look that bad. Sure, the company missed its revenue estimates by a sliver, but it made a $28 million profit and showed solid growth. And Mason, whose most recent example of corporate leadership included drinking beer at a company town hall, showed his maturation by speaking in nonsense MBA jargon on the analyst conference call. ("We have a goal to integrate these platforms so that we can leverage innovations and deploy innovations globally.")

So, if Groupon is growing and Andrew Mason is growing up, why did Groupon's stock immediately fall 20 percent? And why are people who follow the company closely calling for it to lay off employees and shrink its ambitions?

Maybe because investors are scared that Groupon is experiencing the wrong kind of growth. As Rolfe Winkler of the WSJ points out, selling yogurt-makers directly to consumers isn't as cheap as selling them a coupon to someone else's yogurt-maker store. And, as investors learned yesterday, the growth of Groupon Goods is masking a decline in the company's higher-margin coupon business.

Groupon now carries products in inventory which it then sells to customers, as opposed to its core coupon business. Such "direct" sales of products accounted for 12% of revenue in the second quarter, up from nothing a year ago. But excluding these, revenue declined 7% from the prior quarter. And stocking actual products also drives up Groupon's cost of revenue. This jumped to 24% of sales in the second quarter, up from 14% a year ago.
Groupon declined to tell analysts yesterday how much its margins are on direct sales, citing private information that could give competitors a heads-up. But investors are getting impatient. And at a market cap of less than $3.75 billion, roughly half of what Google offered to pay for Groupon in 2010, the company can't afford to wait forever to show that it can make money by going the way of Amazon.

And to think, there was a time when Groupon's biggest problem was Mason's cat obsession.