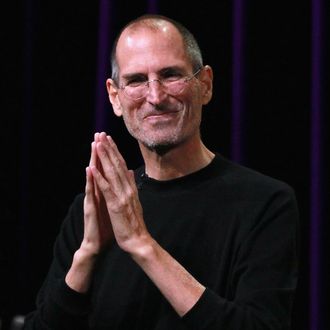 Jobs.
Photo: Justin Sullivan/2010 Getty Images
A California man broke into the late Apple co-founder's Palo Alto, California, home on July 17, and is accused of stealing a cornucopia of Jobs's creations, including iPhones, iPads, Macs, iPods, and more. Before getting caught, the thief gave a silver 64GB iPad to his friend, who unwittingly accepted it (and has since turned it over to police). The unlikely recipient is:
A. Former Minnesota governor Jesse Ventura, who became addicted to the game PITFALL. 
B. Kenny the Clown, who used it to play the "Pink Panther" theme song during a routine.
C. Actor James Franco, a voracious reader who was midway through David McCullough's The Greater Journey when police revealed the iPad's origin.