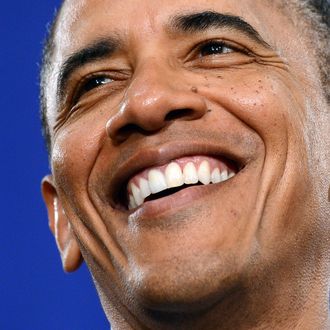 With just under three months until Election Day, President Obama is taking a break from the campaign trail today to celebrate his birth at Honolulu's Kapiolani hospital 51 years ago today (and the subsequent, inexplicable rage headache suffered by a then-15-year-old Donald Trump). After a quick round of golf at Andrews Air Force Base, Obama is headed to Camp David to chill out with Michelle and the girls. An obligatory birthday bash-slash-fund-raiser is still  happening, to be sure, but not until next Sunday at the Obama's Chicago home. As for the guest list, the New York Times' Jodi Kantor reports that it'll include a healthy contingent "strangers who made campaign donations to be there."
While asking supporters to donate the price of a Starbucks frappuccino for the chance to hobnob with the likes of Anna Wintour is nothing new, the location of next week's shindig is raising some eyebrows. From the Times article:
Even some longtime Obama fund-raisers expressed surprise over the party's site: the Obamas have limited their schmoozing hours in Washington, sequester themselves while on vacation and seldom invite many outsiders into the White House living quarters. Until now, they have kept their Chicago home mostly sacrosanct, allowing only limited photographs of the interior. The party raises questions about how far the Obamas will go in mortgaging their personal appeal for political gain in the months ahead.
Still, with the race as tight as it is, it's no real surprise the president plans to free-spend his political and personal capital between now and November. But, that's not to say his birthday will be all campaign work and no celebration. In fact, Obama's already had quite a few early birthday presents: As Intel Jon pointed out on Thursday, the president's poll numbers in swing states are reaching all-time highs; Romney's campaign keeps lurching from crisis to gaffe to snafu; the Democrats' Bain Capital and tax return attacks are taking their toll; and, for the first time in what seems like forever, last month's job numbers were actually above expectations.
If things keep going they way they have this past month, President Obama may actually get his birthday wish — "winning Florida," as he told a rally on Thursday — plus a few more years in that big white house, with those nice lawns and a song that plays every time he walks in a room.