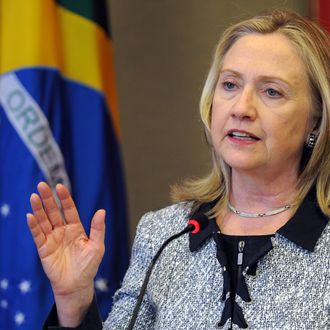 US Secretary of State Hillary Clinton speaks during a joint press conference with Brazilian Foreign Minister Antonio Patriota (out of frame) at Itamaraty palace in Brasilia, on April 16, 2012. Clinton is on a two-day visit to Brazil.
Photo: EVARISTO SA/2012 AFP
"There was a slight panic as the bees winged across the airport," an eyewitness told the Nyasa Times of Clinton's departure from the landlocked nation in southeast Africa. "People could be seen running away to keep cover as the Secretary of State swiftly boarded her plane to avoid any stings." Close call for the most well-traveled secretary of State in U.S. history, who is currently midway through an eleven-day tour through Africa that will end in Ghana. And not a very nice farewell by those damned bees for the highest-ranking U.S. official to visit Malawi since former Vice-President Dan Quayle in 1991.