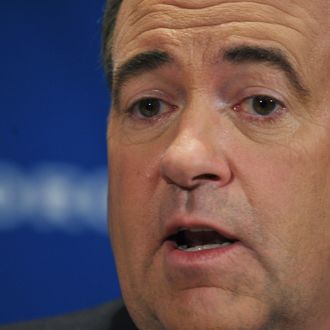 Former Arkansas governor Mike Huckabee s Caption: Former Arkansas governor Mike Huckabee speaks during a discussion of his book 'A Simple Government: Twelve Things We Really Need from Washington (and a Trillion That We Don't!).' February 24, 2011 at the National Press Club in Washington, DC.
Photo: MANDEL NGAN/AFP/Getty
"The Party's leaders have for reasons that aren't rational, left [Akin] behind on the political battlefield, wounded and bleeding, a casualty of his self-inflicted, but not intentional wound," Huckabee said in an e-mail to supporters today. The desire to win a Senate race isn't rational?