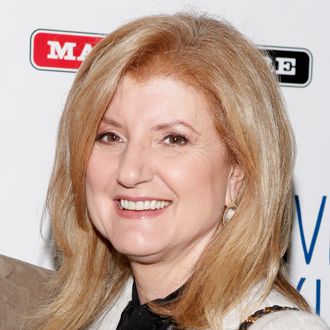 Photo: Cindy Ord/2011 Getty Images
The pesky National Writers Union is always all over the Huffington Post for relying in part on free labor to help stock the endless sideboob-y sections of the prolific site. But today the group expands its purvey to call out HuffPo's "new heights of shamelessness" at the Republican National Convention where Arianna Huffington's crew has set up an Oasis, in the spirit of the nap room, featuring "yoga classes, massages, mini-facials, makeup refreshes, sleep consultations, meditation and healthy snacks." There, the Union claims, "Like its thousands of citizen journalists and bloggers, the massage professionals are unpaid and working for 'exposure.'"
"The National Writers Union believes if you do original reporting, work with an editor, and publish at a for-profit web site like the Huffington Post you should be compensated for your work. If you're a health professional providing a service for a wealthy corporation, you should likewise be fairly paid," explained NWU President Larry Goldbetter in a release noted by Jim Romenesko.
"Refusing to pay workers, whether journalists or health professionals," Goldbetter said, "is a sadly fitting tribute to the candidate of the one-percent." Republicans, on the other hand, are probably pretty good tippers, so the real struggle starts next week in Charlotte.
Update: A representative for the Huffington Post tells Daily Intel that the health team on hand at the Oasis are actually volunteers from the yoga-evangelizing nonprofit Off the Mat and Into the World, and that HuffPo has made a contribution to the cause. And yes, they do accept tips.
Update 2: Make that a $40,000 donation, according to HuffPo — hopefully the volunteers at least get nice hotel rooms.