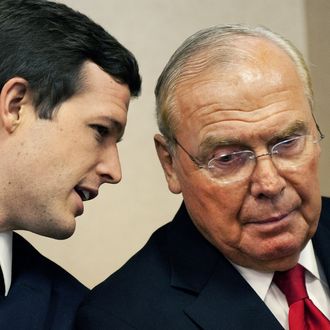 Jon Huntsman Sr. listens to secrets.
Photo: PAUL J. RICHARDS/AFP/Getty
While the buzz right now is that Jon Huntsman Sr. might be the Republican Bain investor who ratted out Mitt Romney to Harry Reid, the man himself now insists that … he's not. Huntsman told the Plum Line's Greg Sargent that he has "absolutely no knowledge of Bain or Mitt Romney's tax returns." But while he's on the subject, Mitt Romney is a deceptive monster and he hates the American people:
"I feel very badly that Mitt won't release his taxes and won't be fair with the American people," Huntsman told me. In a reference to Romney's father, who pioneered the release of returns as a presidential candidate, Huntsman said: "I loved George. He always said, pay your taxes for at least 10 or 12 years."

"Mr. Romney ought to square with the American people and release his taxes like any other candidate," Huntsman said. "I've supported Mitt all along. I wish him well. But I do think he should release his income taxes."
We do not think Huntsman wishes Romney well.