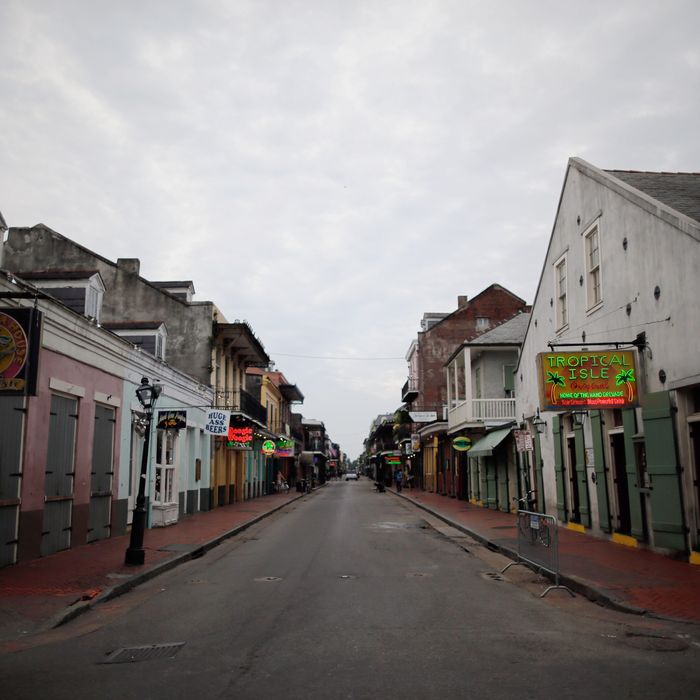 New Orleans waits.
Photo: Chris Graythen/Getty Images
Update: Isaac officially became a Category 1 hurricane as it gained strength over the warm waters of the Gulf of Mexico, with winds reaching 75 miles per hour.
With Tampa spared the wrath of Isaac, Mitt Romney decided to move up his trip to Florida and will arrive at the Republican National Convention on Tuesday, in time to hear his wife Ann speak tonight. But while the storm only lopped one day off of the festivities (so far), it's not done threatening the rest of the United States: Isaac is swirling in the Gulf and could make landfall in southeastern Louisiana late tonight or tomorrow, almost seven years to the day after Hurricane Katrina.
The National Hurricane Center said the storm was moving north toward the mouth of the Mississippi River, with additional strengthening forecast until it makes landfall.
Governor Bobby Jindal and President Obama have declared a state of emergency in Louisiana, and residents are being encouraged to evacuate, although the storm is expected to top out at a Category 1. "Inland flooding historically has been responsible for a lot of fatalities in tropical storms and hurricanes coming ashore," Hurricane Center director Rick Knabb told CNN. "It's not just going to be a coastal event." Isaac has already killed at least 22 people and resulted in massive flooding in the Dominican Republic and Haiti.

But as New Orleans and its surrounding areas prepare and hope for the best, the Republicans pray they can balance their three-day party with the potential for national suffering. News networks have already been forced to split their staffs between the two massive events while Joe Biden opted not to fly to Florida and create a sideshow — the storm handled that part instead. Speculation just yesterday that the entire convention could be cancelled has blown over, but anxiety, along with the real risk of disaster, remains: Romney taking the stage on Thursday with Louisiana underwater is hardly the coronation he's been waiting for.
This post has been updated throughout.